Decreasing the Social Gap Through IT:
The Information Technology Project under the Initiatives of
Her Royal Highness Princess Maha Chakri Sirindhorn

Chadamas Thuvasethakul chadamas@nectec.or.thand
Thaweesak Koanantakool htk@nectec.or.th

National Electronics and Computer Technology Center
National Science and Technology Development Agency
Thailand.
With wide-spread growth in and use of information and telecommunications technology, there is certainly a risk in social gap: between those information "haves" and "have nots", between the "rich" and the "poor", between people residing in the "urban" and the "rural" area, for example. Therefore, in order to secure sustainable growth in the information or networked economy of the 21st century, we must assure that the benefits of IT occur to all segments of the society, and to people from all walks of life.
Her Royal Highness Princess Maha Chakri Sirindhorn has a keen interest in the use of Information Technology (IT) to improve the quality-of-life of the under-privileged group. She has done so much for her people to attain a better life and well-being. Started in 1995, Thailand IT Year, Her Royal Highness introduced the "IT Project" to serve social development for some "forgotten parts" of Thailand.
The Project started with the joint effort between the National Electronics and Computer Technology Center (NECTEC), and the Thai Federation of Information Technology (TFIT), to commemorate the 50th Anniversary of His Majesty the King's Accession to the Throne. The Government Lottery Office raised an endownment fund of approximately 400 million baht and presented to Her Royal Highness for use in the implementation of this project.
An Executive Committee was set up to implement the project. The committee is chaired by Her Royal Highness, and is composed of about 15 IT experts. Professor Dr. Pairash Thajchayapong, the Director of National Science and Technology Development Agency (NSTDA), was appointed the Deputy Chair of the Executive Committee. NECTEC serves as the secretariat office, and is responsible for all administrative work and coordination among relevant agencies.
The purpose of the Project is to apply the use of IT to enhance the quality-of-life and to increase education and work opportunity of the under-privileged group, for example, rural school children, disabled persons, sick children.
By regularly accompanying Their Majesties the King and Queen on visits to remote areas, as well as by her own visiting many of the Royal Project sites, Her Royal Highness has a thorough understanding of the rural development problems and has envisioned the potential that IT may help alleviate some of those problems, especially in education. Therefore, the first sub-project that was started since the inception of the HRH's IT Project was the IT for Rural School Education, or "Tor-Sor-Ror-Shor", in Thai, for short.
The project implementation is carried out as IT applications in five main programs: IT for Education, IT for the Disabled Persons, IT for the Sick Children, IT for Cultural Information Dissemination, and Computer Teaching for In-Mates.
These programs are implemented through working closely with agencies which are responsible for the issue. For example, the the Ministry of Education is a main agency for the IT in Education Program. The project injects new and innovative concepts to strengthen the normal responsibility of the agencies. The role of the Her Royal Highness's IT Project is to initiate and support some the pilot-scale project in terms of necessary equipment /devices, training and training materials, whereby the main agency will be responsible for maintenance, operation, and long-term sustainability of the project.
I. IT for Education Program, aims to provide rural school children the opportunity to use and benefit from IT in their education, and to decrease the gap between the quality of education among urban and rural areas. Furthermore, it is expected that, having computer skill would help these children to get job and earn their living after they leave school. Since all schools that were chosen to be in the program are in rural area and lack necessary equipment and teachers, four levels of development plan were established with the following achievement targets:
All schools have necessary equipment, i.e., PCs and printers, with basic software such as word processor, spreadsheet and database.
All schools have appropriate teaching materials and educational software.
All schools have skills to develop CAI (Computer-Aided Instruction) to be used in teaching various subjects.
All schools connect to SchoolNet, a nationwide education network for schools.
Implementation of the program involved many activities, all of which are believed to be important in order to achieve the program objectives. These are:
Provision of used computers (through donations from various agencies) to schools in the program. TFIT helped collecting and refurbishing the used PCs.
Development and dissemination of teaching materials for teachers.
Provision of necessary IT books to schools.
Teachers training.
Establishment of Repair and Maintenance Center (with help from the Department of Vocational Education, Ministry of Education, which presently has set up 15 centers).
Development and dissemination of CAI for primary and secondary schools.
Development of teaching plans for selected CAI packages for primary school.
Presently, 72 schools are now joining the Program, 60 are in secondary school level and 12 are in elementary school level. (The number 72 were chosen to commemmorate the 6th Cycle Anniversary of His Majesty the King). Of these, 36 schools have been connected to the SchoolNet, with 14 schools having produced the school's web pages. Five training centers have been established in Nakornnayok Province to provide necessary training for teachers of schools in the program.
Dr. Tinsiri Siribhoti,
Director of Educational Technology Center, St. John's College, who helped in the implementation of one pilot-project at Phra Tamnak Suankularp School, which is a school set up within the Grand Palace compound in 1983, said, "For the project implemented in this school, we emphasized on providing teachers with skills to use the CAI to supplement their regular teaching materials in various subjects, such as English, mathematics, etc, at primary school level (prathom 1 to prathom 4). We selected CAI packages that were best-sellers in the United States, and prepared teaching and in-class activity plan, and we trained teachers to use these packages. However, in doing this, we had to first study the curriculum thoroughly, and then we selected software that can be used to supplement teaching of each subject, then we prepared the teaching plan, and trained teachers. The result of the first year that we implemented this project was very favorable, both from teachers and students' evaluation. Although the CAI packages we used were in English language, it did not present any problem because we translated and prepared the teachers' guidelines in Thai and we trained them. Also, these programs were designed with the use of many graphics and icons that were easy to understand, despite having language handicapped. For me, I feel very honored to have the opportunity to be involved in Her Royal Highness's project. Although we have to further investigate the effectiveness of these CAI packages in terms of students' learning for at least another year, I have the strong intention to do my best since I first joined the IT Project last year."
II. IT for the Disabled Persons Program, aims to demonstrate and provide public understanding about the use of IT applications to develop independent living and learning skill, to improve the quality of life, and to enhance education and job opportunity for the disabled persons, which constitute more than 2% of the Thai population.
There are two main activities, i.e., provision of necessary IT equipment and devices for use in schools and disability-related agencies to enhance education and quality of life of children and youth with disabilities, and Research & Development (R&D) on Assistive Technology. Several PCs, devices and/or products have been sought from various sources, both in and outside the country and pilot tested to assess their use at Srisangwal School, which is one of the largest schools for physically handicapped children in the country, established under the initiative of the Princess Mother. Examples of the devices/products that were given to school are: Speech Viewer for people with speech impairment, easy balls (large mouse for physically handicapped), various kinds of switches to help the handicapped access to the information, Intellitools, etc. The IT Project staffs also work with various authorities that deal with disabled persons so that they see and understand the use of technologies and can integrate technologies into their respective program.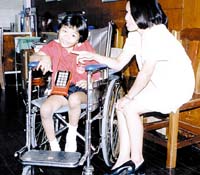 The R&D part was performed mainly by NECTEC and King Mongkut Institute of Technology Ladkrabang. Six prototypes have been developed: 1) a communication device for People with speech impairment, called Opa. [see photograph], 2) a communication software for people with speech impairment, called Prasai, 3) a CD-ROM on sign language for computer-related words, 4) a talking device for the bus to assist vision-impaired people ("Talking Bus"), 5) a CAI for early intervention in child development, and 6) a graphics-based I.Q. testing.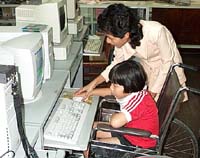 Presently, Opa and Prasai are being assessed for their use in the hospitals and special schools. Twenty sets of prototype of a talking device for the bus, and a remote control set for the blind, have been developed and are currently being assessed for their use. A CD-ROM on sign language will soon be distributed to all schools for the deaf around the country. Certainly, these devices and equipment will help the disabled people to live their life more independently and to have a better education opportunity. If imported from abroad, they would have been too costly, and unaffordable for many people. Therefore, this project had contributed not only to increase availability of technology to more of those who are in need, but also to save our foreign currencies by not having to import technology from abroad.
Professor Pairash Thajchayapong,
the Deputy Chair of the Executive Committee of the IT Project under Her Royal Highness's Initiatives, said, "I once had an honored to be in the same trip that Her Royal Highness visited universities, research institutes, and companies that engaged in the project to develop technologies for the disabled. I can say for certain that Her Royal Highness is very interested in these technologies, but she is also aware that they are expensive, so she asked our group to seriously look into these kinds of technology in order to be able to develop and apply for use among Thai disabled persons which should be much cheaper. Her Royal Highness also generously provided some funds for the purchase of these devices and equipment from abroad for pilot use among our disabled people and for possible future development in the country. I feel much grateful for Her Royal Highness's concern about the life and well-being of the Thai people."
III. IT for Sick Children in the Hospital Program, aims to use IT to help in childhood skill development and education and to provide entertainment to sick children while in the hospital. This came out of HRH's initiatives that sick children who have to stay in the hospital for a long time should have the opportunity to learn and develop their skills through the use of computers and appropriate software.
Presently, the HRH's IT Project have supported the set up of computer facilities in four hospitals, i.e., Chulalongkorn Hospital, Children's Hospital, Lerdsin Hospital, and Maharaj Nakorn Chiangmai Hospital. Based on the evaluation by the teachers responsible for the program in these hospitals, children were very interested in using the computer facility. In some hospitals, the children had to wait in line for a long time to be able to use the computers. The teachers felt that the computer helped children to develop their skills better and to make them happy and forget about their illness. A research is underway to evaluate the result of the pilot project.
VI. IT for Cultural Dissemination Program, aims to develop cultural information database and disseminate to the public via an Internet, and later on, make available in a CD-ROM. The cultural information in each province in Thailand is classified into eight areas, i.e., Local Attractions, Local Heroes, Local Wisdom, Natural History, Way of Life, Local Products, and Manuscripts. All provincial cultural centers are networked together in groups to perform data collection. The project is implemented by the Office of the National Culture Commission, with NECTEC supports on the technical side.
Presently, a web site has been set up for public view at http://kanchanapisek.or.th/kp8 NECTEC is now working on initiatives to make the site more interesting and entertaining and thus gain more visitors, especially from school and college students. Among the initiatives to be implemented soon are interactive features such as games.
V. Computer Teaching for In-Mates Program, aims to provide basic computer knowledge and skills to in-mates so that they can have a better opportunity to find job and earn their living when they are released.
Presently, a computer facility, with 20 PCs that have been donated to Her Royal Highness's IT Project, has been set up at the Institution for Female Offenders, Office of the Corrections. Approximately 100 female in-mates at have been trained . A selected number of those who were trained have been enrolled in a pilot typing program whereby NECTEC helped to supply the typing work. The in-mates who were in this pilot program were given some bonus as a result of their work. Many of them indicated that the program was very useful and urged that it be continued.
Apart from the five programs above, Her Royal Highness Princess Maha Chakri Sirindhorn is also interested in using the potential of IT for dissemination of information about health and hygiene to the public at large, so that they can take a better care of themselves by engaging in health promoting behavior such as exercise and good food. HRH has conveyed this initiative to the Department of Physical Education which has later taken up and developed into the project which was supported by the Department's annual budget. The objective was to develop an educational multimedia to provide understanding among the public of the importance of food intakes, exercise and sports, health and hygiene, as well as activities of boy scouts and girl scouts. These information will soon be publicized on the Internet under the Kanchanapisek Network (www.kanchanapisek.or.th).
Conclusion
Aiming at harnessing the potential of IT to achieve a better, wider opportunity in education, work, and life, the IT Project under Her Royal Highness Maha Chakri Sirindhorn's initiatives has proceed into the fifth year of implementation. In principle, the IT Project would support the activities in pilot scale, or support programs/activities that have not yet been reached or supported by the government mechanism. As Ms. Vilawan Vanadurongwan, who is one of the key Executive Committee members and was instrumental in the inception of the project five years ago, said, "Her Royal Highness mentioned several times that she would like to limit the scope and scale of the project she supported because she would like to focus and to closely monitor all projects to see that they achieve good result before further expanding the scope. She emphasizes the importance of monitoring and evaluation. We can witness this in the news that she always visited schools that have projects under her initiatives. Her Royal Highness is very careful about using the funds. She would spend those to programs/activities that are truly necessary and nothing else. After we see that the project achieves good results, it should be the responsibility of relevant government agency to take up this with their own budget and with a larger scope of operation."
Many projects have been completed its pilot phase, whereby initial budget was given out of HRH's IT Project funds, and later taken up by the regular budget of the organization that are directly involved, for example, the IT for cultural dissemination which is now directly under the responsibility of the Office of the National Culture Commission, the operation of computer repair and maintenance center which is now under the responsibility of the Department of Vocational Education. Some projects have been completed and the output were transferred to the relevant agency for wider dissemination, for example, the CD-ROM on sign language, the prototype of which has been given to the Educational Technology Center, Department of Non-Formal Education, Ministry of Education, to replicate and disseminate to all provincial special education centers.
The success and sustainability of the projects in the long term would therefore depend largely on the cooperation from the relevant government agencies to take up the pilot-scale project, enlarge the scope, and integrate into their normal operation with necessary support. Furthermore, since the IT skills of personnel involved are very crucial in implementing these projects, it is important that human resource development scheme have to be put in place to ensure that technology can be further developed and effectively used.
Donation Contact:
Those organization or individuals who are interested in donating used PCs to the HRH's IT Project, to be given out to rural schools can contact the secretariat office at tel. (662) 644-8150..99 ext. 642, 470, 637, or contact the Thai Federation of Information Technology, at tel. 216-5991..2.
Minimum specifications for donated PC's;
Pentium, with CPU speed at 120-200 MHz, 16 MB RAM, 1 GB H/D, SVGA (800 x 600) 14-inch monitor.