Light microscope is known as a basic scientific instrument which is mostly available in laboratories or schools. It magnifies small objects and give not-naked-eye visible details. Therefore, it is a powerful learning tool for everyone especially students in scientific program. Although microscope is important for learning, many schools cannot afford this equipment as well as other relevant costs (i.e. lens maintenance, temperature and humidity controlled room, and external camera for image capture. Researcher from Photonics Technology Laboratory (PTL), National Electronics and Computer Technology Center (NECTEC), National Sciences and Technology Development Agency (NSTDA) then developed self-attached-flexible-polymer lens which can be easily attached onto camera of smartphone or tablet, and use as a personal microscope. The lens was named MuEye pronounced as Mu-Eye which means eyes for seeing micron-size objects.
MuEye lens differs from other commercial magnified lenses due to the patent-pending moldless fabricating process. Our technique gives high-quality lens with controllable magnifications ranging from 1 to 200 times by varying fabricating temperature and nozzle moving speed. This research will allow low-cost lens manufacturing for mobile microscope. We also designed a sample stand which has build-in light source, adjustment knob and ability to use with both front and back camera of smartphone device. MuEye prototype was first launched to market in 2014 via crowdfunding in product name "TWI-VIS" and can raise fund more than 6000 USD. This funding was spend on mass production R&D.
Currently, MuEye lens fabricating technologies have transferred to licensee and the products in market have various magnifications such as 25,50 and 100 times.
Crowdfunding link:
https://www.indiegogo.com/projects/dual-microscope-lens-for-mobile-devices-twi-vis#/
Publication link:
https://dx.doi.org/10.1371/journal.pone.0146414
https://light2015blog.org/2015/10/29/digital-microscope-in-your-hand/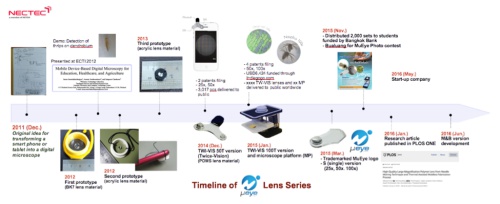 Benefit
– A flexible polymer can be attached on camera of portable devices, i.e. smart phone or tablet. No need of using glue, magnet or clip on.
– With our patented manufacturing process, MuEye Lens has clearer surface and higher magnification than ordinary lens in current market.
– This low-cost digital microscope will motivate self learning among students.
"The Adventure story of MuEye Boy: Lost in the crustacean world"
MuEye Lens
– Serie S: Magnification 25,50 and 100 times for Educational tools
– Serie MB: Magnification 250 times for professional work
How to use
Click here to enlarge the instruction
Target Users
Serie S: Teachers and students in scientific curriculum
Serie MB: Professional who needs a portable digital microscope
Team
Photonics Technology Laboratory (PTL)
Intelligent Device and System Research Unit (IDSRU), NECTEC
www.facebook.com/MuEyeLens
Product status
Serie S: Technology transfer to company, please contact MuISet company for product quotation( www.muiset.com )
Serie MB: Product developing, to be launched in NSTDA's Investor Day (September 2016)
More information