On 10 February 2021, the National Science and Technology Development Agency (NSTDA) and SIASUN, China's leading robotic & automation company through its Asia Pacific Headquarter company SIASUN AUTOMATION (SINGAPORE) PTE. LTD., signed a memorandum of understanding (MoU) to jointly develop SMC-SIASUN Innovation Center at the Eastern Economic Corridor of Innovation or EECi. The center is to focus on developing innovation ecosystem supporting the Automation, Robotics, and Intelligent systems (ARI) adoption in Thailand's industrial sector. The collaboration will strengthen the position of the Sustainable Manufacturing Center (SMC), which is an anchor center within EECi ARIPOLIS, to support the Thai industries on their journey towards Industry 4.0 adaptation.
The signing ceremony of the MoU was witnessed by Dr. Kanit Sangsubhan, Secretary General, Eastern Economic Corridor Office of Thailand (EECO), while the signing parties include Dr. Janekrishna Kanatharana, Executive Director, Eastern Economic Corridor of Innovation (EECi) and Executive Vice President of National Science and Technology Development Agency (NSTDA); Dr. Chai Wutiwiwatchai, Executive Director of National Electronics and Computer Technology Center (NECTEC); Dr. Panita Pongpaibool, Director of SMC; Mr. Zhao Chen, CEO of SIASUN AUTOMATION (SINGAPORE) PTE. LTD.; and Miss Toh Guat Lan, Deputy CEO of SIASUN AUTOMATION (SINGAPORE) PTE. LTD.
"The MOU signing ceremony between NSTDA and SIASUN today officially kicks-starts the collaborative actions to support industries in Thailand on their Industry 4.0 journey. SMC-SIASUN Innovation Center will be the first of several more collaborative setups between SMC and other leading international players in Industry 4.0 at EECi." said Dr. Janekrishna Kanatharana.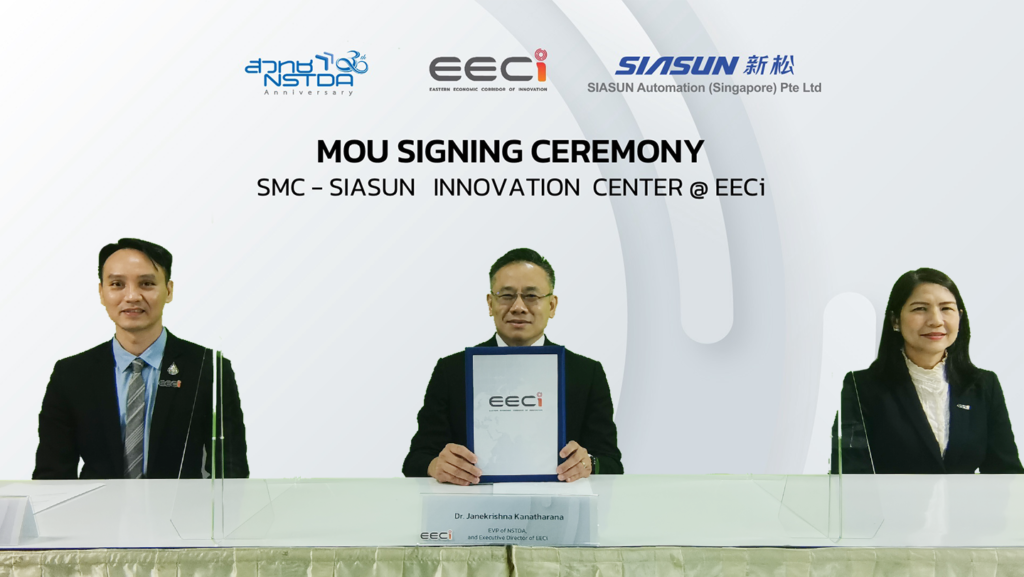 EECi is the innovation infrastructure under the management of NSTDA and under the umbrella of the Eastern Economic Corridor (EEC) Initiative of the Thai government. Its main mission focuses on building a comprehensive innovation ecosystem to support scale up of local research outputs to industrial utilization as well as to support localization of advanced technologies from abroad for local industry development.
The Sustainable Manufacturing Center or SMC is one of the flagships of EECi focusing on supporting Local manufacturing sector in its journey to Industry 4.0 through the application of Automation, Robotics and Intelligent Systems. NSTDA plans to equip SMC with all necessary service components, specially designed to match with Thai manufacturers in various sectors and sizes. These services range from Industry 4.0 readiness assessment, business & technical consultation, advanced manufacturing training aiming at re-skilling & up-skilling human resources, technology demonstration and Industry 4.0 test-bed for research and development.
"As a leading company in China, Siasun Corporation has become a world-class high-tech listed company integrating innovation, R&D and production in robotics, automation, and other fields. Siasun will join hands with NSTDA to integrate robotics, Artificial Intelligence (AI), Industrial Internet of Things (IIOT), cloud computing, big data, and other cutting-edge technology to empower Thailand's smart manufacturing, contributing to Thailand 4.0 and sustainable development." said Mr. Zhao Chen.
The Thai cabinet has approved a framework budget of 5,400 million baht for SMC. The first batch of the investment is on advanced infrastructure supporting Industry 4.0 adaptation in Thailand. SMC, in collaboration with local enterprises and partners from both the public and private sectors, initiates a strategic Industrial IoT and Data Analytics (IDA) Platform, applying IoT (Internet of Things) technology to connect shop-floor machines to the enterprise IT systems, hence increasing overall productivity, boosting development of the automation and robotics industry, and enhancing industrial competitiveness. IDA platform is now being installed in 15 factories with a plan to reach 500 factories within 3 years.