National Electronics and Computer Technology Center (NECTEC NSTDA) was approved to implement the project from APEC Telecommunication and Information Working Group (TEL), ICT Development Steering Group (DSG), and organized this workshop in the Senior Official Meeting (SOM3) under the APEC Cooperation Framework Meeting (Asia-Pacific Economic Cooperation: APEC) 2021 hosted by New Zealand
The workshop was held online on September 1, 2021 for the purpose is to promote secured use of open data in the APEC region, to share open data best practices and lessons learned among APEC member economies, and to initiate the open data community of experts, policymakers, and practitioners in the APEC
The workshop was attended by executives, researchers, staff from NECTEC NSTDA, led by Sarun Sumritdetkajon, Ph.D. and Alisa Kongthon, Ph.D., Deputy Executive Director, together with Marut Buranarat, Ph.D., Director of Data Science and Analytics Research Group, Suthipong Thachayapong, Ph.D., Head of Strategic Analytics Networks with Machine Learning and AI Research Team, Porprom Ateetanan, Ph.D., Deputy Director of Strategic Planning and Partner Development Division and Kusumaporn Sompong, Ph.D., Manager of International Cooperation team.
Before starting the workshop, Sarun Sumritdetkajon, Ph.D., Deputy Executive Director of NECTEC NSTDA welcomed speakers and participants.

The workshop was opened by Mr. Brian Mattys Convenor, ICT Development Steering Group (DSG), APEC Telecommunications, and Information Working Group (TEL). 
The first session is 'Best practice sharing: Transformation economics with open data' by
Chi-Ming Peng, Ph.D., Chairman, Organization of Data-Driven Application (ODA), Chinese Taipei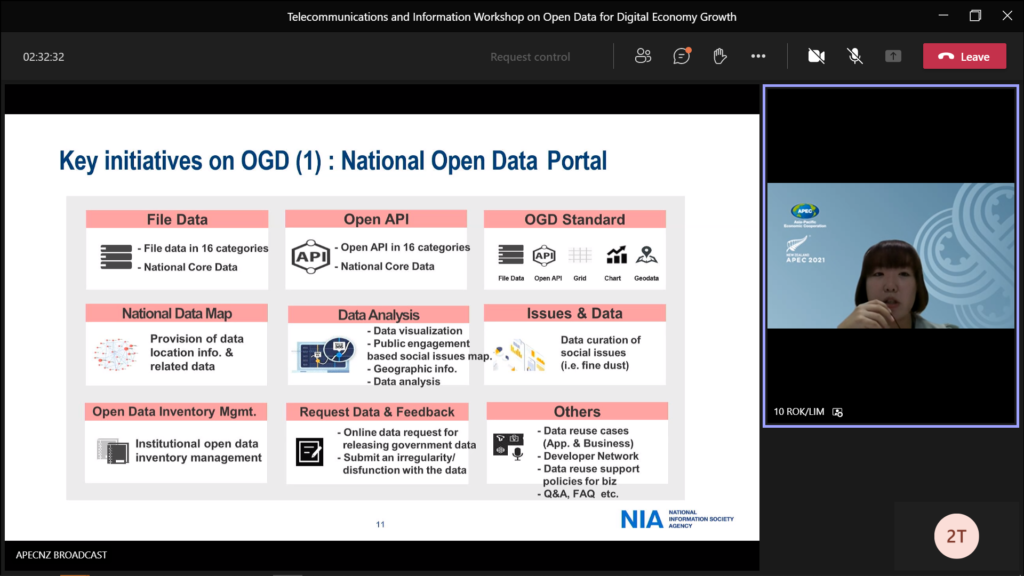 Ms. Hyejeong Lim, Principal manager, Department of open government, National Information Society Agency (NIA), Republic of Korea
Mr. Nguyen Quang Dong, Vietnam Digital Communications Association (VDCA) Standing Committee member
Monsak Socharoentum, Ph.D. Vice President of Government Data Solutions and Chief Data Officer (CDO), Digital Government Development Agency (DGA), Thailand
And conclude with a panel discussion "Policy dialogue: Accelerating open data for innovative economics and society." moderated by Marut Buranarach, Ph.D., Director of Data Science and Analytics Research Group, NECTEC, Thailand. The panel discussion is as the following issues.
The application of open data to the current development of the digital ecosystem
A journey from tradition to innovation- Policy-driven transformation in economics and society
The promotion effectiveness and policy recommendations 
The policy on the application of open data-driven to innovative economics and society
The preliminary outcomes of the workshop are
The awareness of the use of open data in the APEC region

The lesson learn among APEC member economies and the adoption for the next stage

The common interest to initiate APEC open data forum which consists of experts, policymakers, and practitioners in the APEC region
Thailand NECTEC and DGA will join hands with Chinese Taipei, Vietnam, Korea, and APEC Member economies to pave the way to APEC open data forum in the future.
———————
The Asia-Pacific Economic Cooperation (APEC) is a regional economic forum established in 1989 to leverage the growing interdependence of the Asia-Pacific. APEC's 21 members aim to create greater prosperity for the people of the region by promoting balanced, inclusive, sustainable, innovative, and secure growth and by accelerating regional economic integration. 
In 2021, New Zealand is hosting APEC (Asia-Pacific Economic Cooperation) with the main theme "Join, Work, Grow. Together".
Team formulation: APEC Workshop on Open data for digital economy growth hosted by NECTEC NSTDA
Marut Buranarat, Ph.D as Workshop Chair
Kusumaporn Sompong, Ph.D as Project Overseer and
Pornprom Athetanan, Ph.D. as Project manager