December 22, 2021 – Daisin is one of Thailand's leading publicly-held aluminum vehicle parts manufacturers and in the Top Ten of production capacity in Thailand. With a sales volume of approximately THB 6 billion per year, 52% of Daisin's income comes from the motorcycle parts industry, 36% from the auto parts industry, and another 8% from parts production for other industries such as agricultural engines, and multipurpose engines.
For more than 42 years, Daisin has manufactured parts essential to both domestic and overseas customers, creating stability for the Thailand industrial sector by championing international quality standards.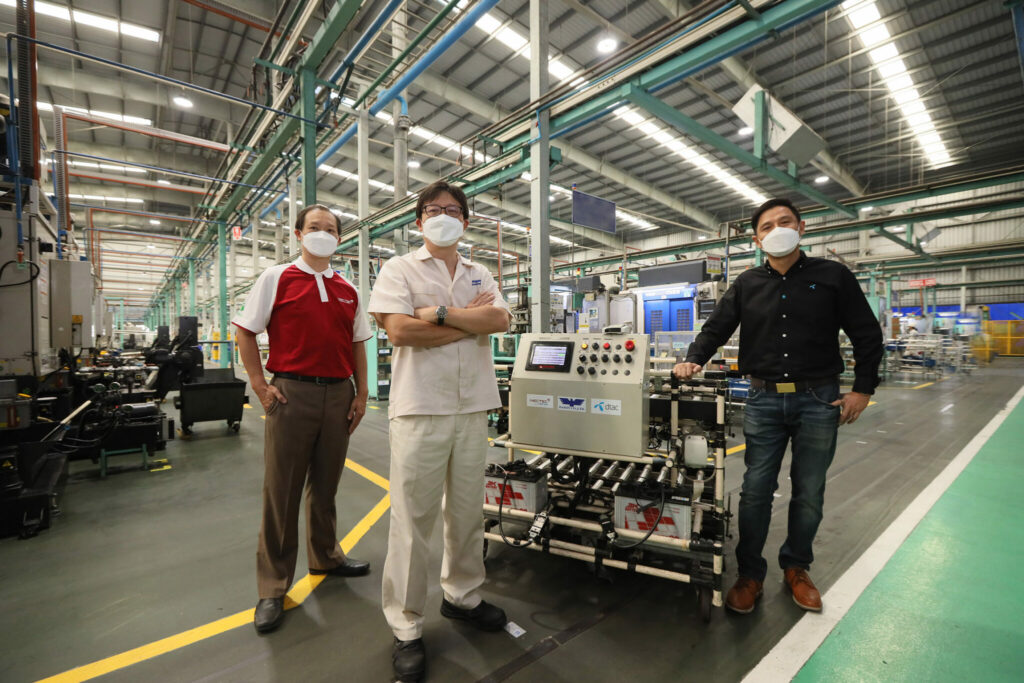 Mr. Thanin Leegomonchai, President of Daisin Co., Ltd. stated, "As a manufacturer of auto parts for over 42 years leading up to the current COVID-19 crisis, we've now seen the importance of technology and automation that has led us to adapt with 'Smart' factories."
"This cooperation between NECTEC NSTDA and DTAC is our first step in utilizing 5G to eliminate pain points in the manufacturing process. AGVs (Automated Guided Vehicles), can deliver parts during the production process, but cannot be accurately controlled. Specifically, keeping track of their location manually by staffs causes a loss of production time. This presents extra costs in transporting parts within the factory. It's important to work this out because it can also present a danger from improper transportation", Mr. Thanin said.
At the heart of the production process, Daisin has AGVs, or part transportation, that can be routed, then stopped by magnetic strips, but are limited to this activity. It has an adverse effect on production targets. If you want a real-time tracking system which increases map routing accuracy in delivery, the traditional AGV can no longer meet these production process requirements. This is especially true in the era of high competition with the need to reduce production-to-market times. Innovation will reduce costs, especially with accelerated production during the epidemic crisis when we need to make use the most of digital platforms and 5G.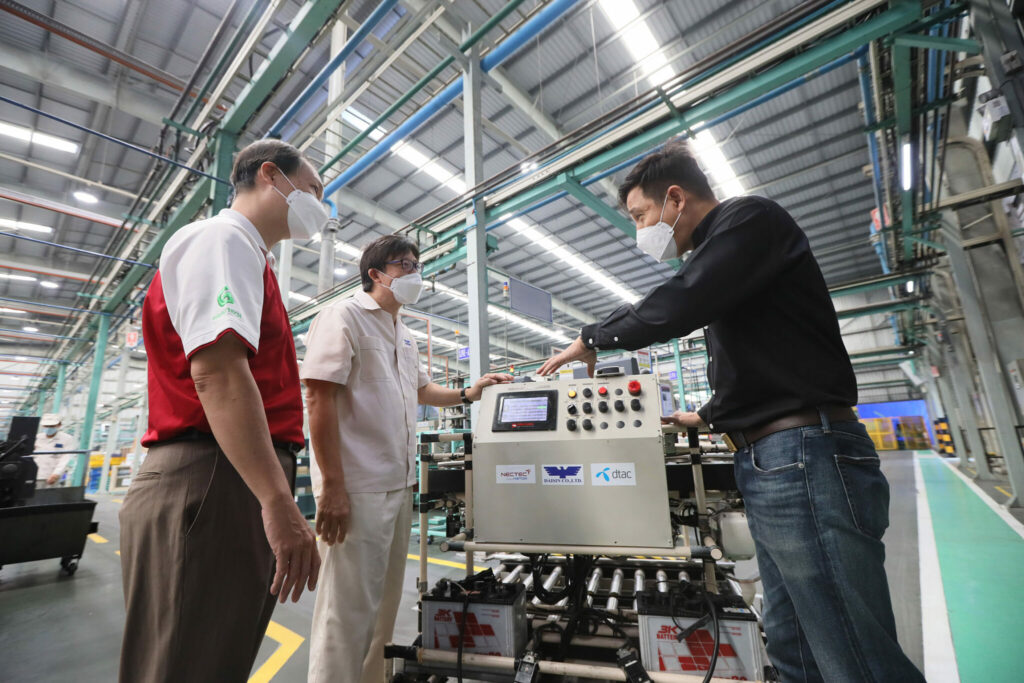 Therefore, a 5G solution that can transmit and receive accurate data in real-time will meet the needs of smart factories with automatic controls and sensors using the Internet of Things (IoT) format. This can be developed to communicate with other IoTs and can send data to the cloud to provide data analytics, fully supporting Big Data in a digital environment. Daisin's AGVs will have a DTAC SIM installed to transmit 5G signals to the platform, precisely conveying parts to each production process. No time is wasted on surveillance tracking.
The location-tracking system used in this collaboration is the result of the LAI (Automatic Identification and Indication System) research team of NECTEC's NSTDA, also known as the "UNAI", or "Where are You" platform. This has been incorporated to send AGV's current location and status information through DTAC's 5G network to the platform's servers. An Internet of Things (IoT) network uses AGV electronic devices to link or transmit data via 5G. This enables the Daisin team to optimize the use of AGVs and to use the data to determine the number of cycles running in the production process via DTAC's 5G network.
Dr. Panita Pongpaibool, Deputy Executive Director at the National Electronics and Computer Technology Centre (NECTEC NSTDA) said, "We recognize the importance of 5G network technology as a potential tool to drive Thai industry to be more competitive. We see the country's industrial sector as needing to adapt to the Industrial Age 4.0. Otherwise, it will not be possible to compete on the world stage. Digital technologies such as 5G, the Internet of Things, Big Data, and Artificial Intelligence must be introduced at the very beginning."
"Entrepreneurs may not be confident in investing in technology, so NECTEC NSTDA joins with partners such as dtac to support operations to demonstrate the benefits and value of investing in technology. Hopefully, this will have an impact on factories in similar industries. For budgets used in conducting 5G use case trials for a smart factory, NECTEC NSTDA is supported by the Broadcasting and Telecommunications Research and Development Fund for Public Interest."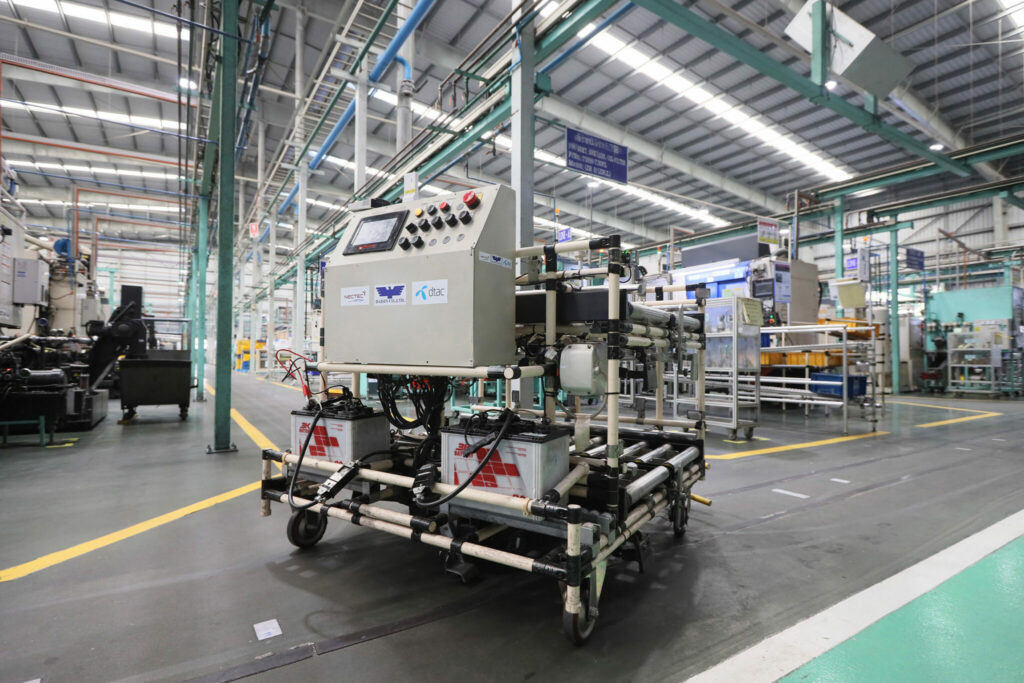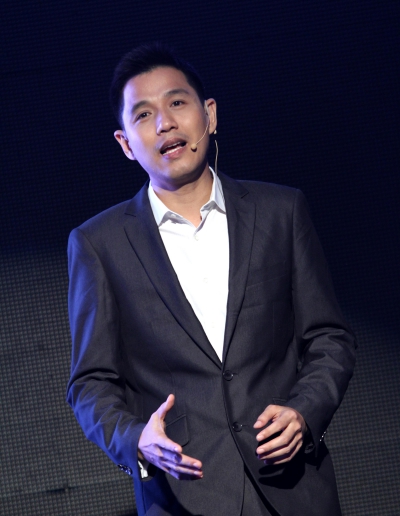 Mr. Krit Prapatsakdi, Head of Enterprise Sales Division at Total Access Communication PLC  or DTAC said that according to data from Krungsri Research, in 2021-2022 domestic automotive production is expected to recover with an average increase of 3-4% per year, in line with the global automotive manufacturing industry.
This partnership with Daisin and NECTEC NSTDA is to further 5G technology to go beyond leveraging  the use of existing production machinery systems through network leadership to using real-time data and developing it through the use of artificial intelligence. With the use of 5G technology to help manage huge amounts of data in analytics, this leads to innovation in business and economic development like never before. In this 5G use case, dtac has the opportunity to work with Daisin and NECTEC NSTDA in developing a prototype smart factory to facilitate the continued development of other factories in Thailand.