After NETPIE has launched for developers and interested people to demonstrate. There are many achievement creations which made daily life easier than ever.
Today NECTEC will take you through the achievement of one of NETPIE's users who applied Internet of Things (IoT) in manufacturing process. Nidec Shibaura Electronics (Thailand) Co., Ltd. (NSET), led by the chairman Mr.Kazuyoshi Hiro, warmly welcomed NECTEC delegates and show us how NSET has transformed its factory into a smart factory with the help from NETPIE.
Case Study: Applying IoT to achieve Smart Factory
NSET's main business is to manufacture motors for air conditioners and washing machines. Recently, the Nidec Headquarter in Japan announced the policy of adopting 'Industry 4.0.' NSET tries to follow this plan with the goal to be a Smart Factory by 2018. NSET's Smart Factory action plan consists of 3 steps as follows;
NETPIE : The First Impression
Mr. Ekkasith Inthong, NSET's Assistant-General Manager who is responsible for NSET's Smart Factory project, told us about his first encounter with NETPIE. "After HQ announced the Smart Factory policy, I had no clue how to reach the goal."
"I was working hard to understanding the Smart Factory concept and started some do-it-yourself projects on my own. It took a while to find the solution but things were still unclear," he said.
"One day, after I got home and turned on the TV, a TV program was introducing NETPIE. It seems to fit in with what I'm looking for. I decided to try it out."
"Then I invited factory staffs who are interested to join the project, to share ideas and tools for developing IoT. Everyone is a volunteer who sacrifices his or her own free time after work to work on the project."
NSET's IoT development team focuses its activities on LCA Policy (Low-Cost Automation and IoT Activities). The LCA activities target at improving work processes, reducing labours and human errors under restricted budget. The team assembles IoT sensors and devices by themselves using off-the-shelf products and uses NETPIE as a cloud platform to connect all IoT devices together. They also create status dashboards using NETPIE's customizable dashboard tools.
NETPIE Implementation at Nidec Shibaura Electronics (Thailand)
NETPIE and other technologies such as RFID were utilized in a variety of interesting functions all over the factory, for example: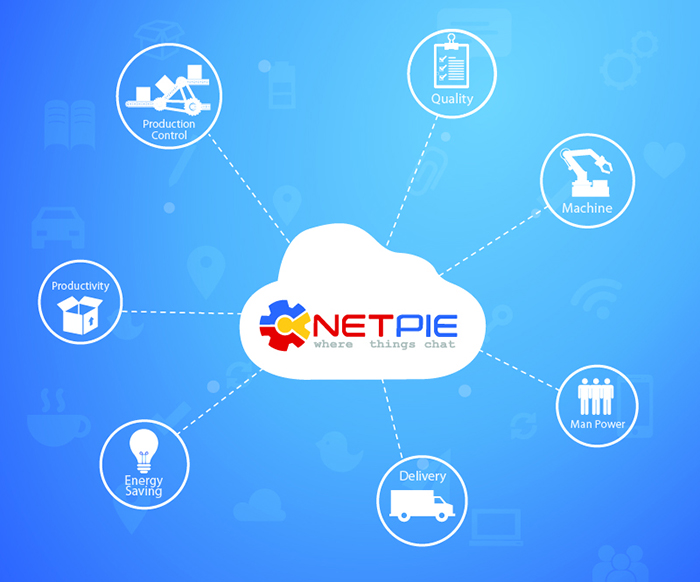 Light Switch Controlling System, a mobile application which can control lights in hallways and rooms.
Meeting Room Status Reporting System
Consumable Disbursement System for reducing paper work. When staffs spend credit card over the limit, system will report directly to executive.
E-Employee Service System to record absence/leave/late.
Meeting Room Status Reporting System
Location Mapping System which work together between RFID, record product information and NETPIE to define location and position of products at the warehouse.
Lubricant Oil Temperature Sensor to replace a daily human task of recording machines' oil temperature.
Flow Sensor in Water Cooling System to replace a daily human task of checking machines' cooling water's flow rate.
Robotic Machine Controller
Traceability System that uses RFIDs and QR codes to record product information then connected with NETPIE for real-time checkup. In the past NSET staffs had to spent 4-5 months for tracing back when there were defects.
Temperature Controller in quality checkup room. NSET used to recorded data by staffs every 2 hours which caused inaccurate information. After using NETPIE, the temperature information was accurately and regularly recorded, making it easy to control quality.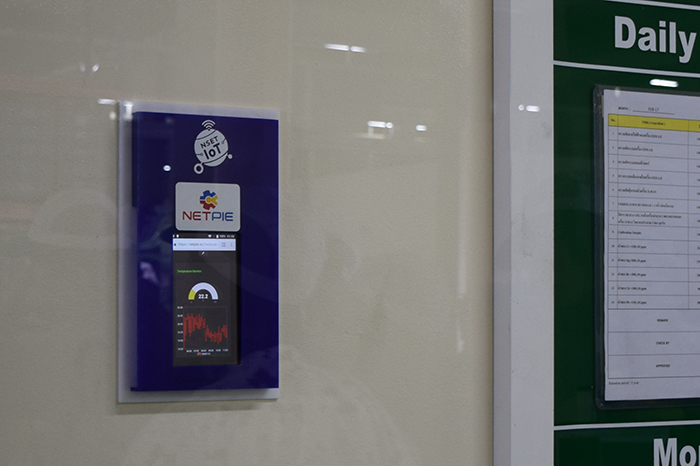 Temperature Controller in quality checkup room
Inventory Management System combines IoT with RFID to record types, quantity and location of finished goods.
Smart Weight System which reduce 50% of wasted raw material from operating process and also save 2 staffs in the process.
Smart Connector System which report quantity of QC passed products.
Smart Delivery System which manage route and location in transportation process.
Inventory Management System in warehouse
Global View with Dashboard
NSET's work space was not separated by divisions like many other organizations. All desk staffs work in the same room, same space with the rest corner inside. Everyone, executives included, will see the same information about production efficiency, energy consumption, machine status, delivery location, all from the central dashboard displayed in the room.
What NSET has gained from developing IoT
Since the start of the IoT for Smart Factory project in 2016, NSET has deployed 330 NETPIE-connected IoT devices. NSET factory has reduced 9.7% of in-directed cost and 7.4% of expense. NSET also aims to install up to 1,500 NETPIE-connected IoT sensors in the coming year.
Chairman, Mr. Kazuyoshi Hiro said that "The progress of IoT deployment in this factory is about 30% of the goal meanwhile we have to improve and develop ourselves. To be the Industry 4.0, we have to reduce waste and speed up in every process to compete globally. The knowledge from developing factory will be shared to all Nidec group companies worldwide."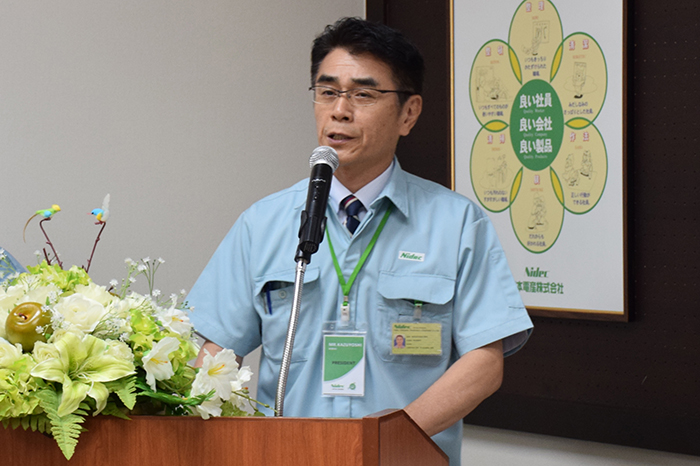 Mr.Kazuyoshi Hiro, chairman